Eric N. Mack
8 - 22 April 2020
Scroll
For me, painting has always been a space of questioning. It's most important for me to emphasise the painting as an object, separate from mere surface or picture. There is an objecthood to the way the work, a painted object, is made, down to the way it is related to the stretcher bar. I've been creating surrogates for that type of suspension that speaks closely to the material of the painted object.
-Eric N. Mack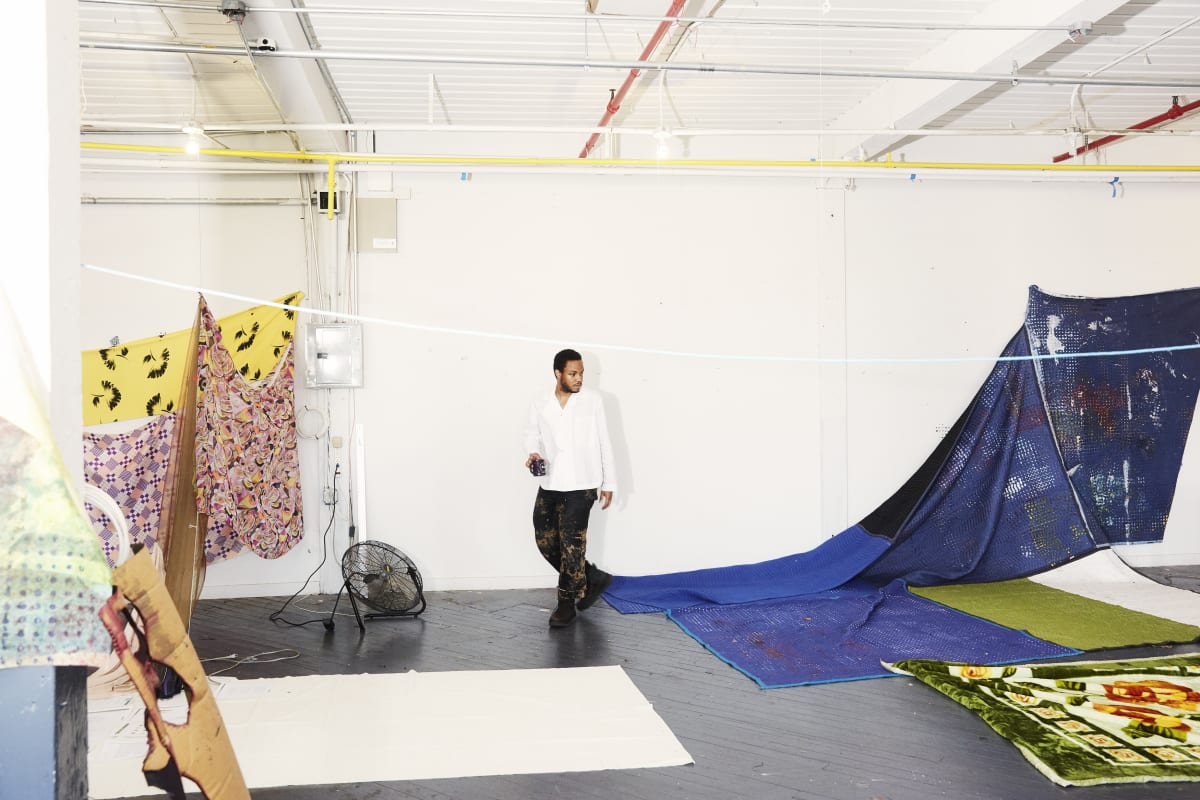 Eric N. Mack refers to himself as a painter, yet his works rarely observe the medium's traditional canvas-to-stretcher format. Rather, his tactile creations, made from a dynamic combination of used textiles, worn clothes, moving blankets and torn rags, alongside pieces of paper, photographs and pull-outs from books and magazines, extend and transform the notion of painting.
His use of colour, form and material as elements in a compositional lexicon, as well as the stained or dyed fabrics which are his principal medium, declare the origin of his practice in the investigation of painting in an expanded field, while the way his compositions occupy and transform space are evidence of their sculptural nature. They are at once paintings and sculptures, fully engaging with both disciplines.
Constructed using altered, dyed, secondhand materials often locally sourced by the artist, Mack's works highlighted in this Artist Focus were first made as the staging for Grace Wales Bonner's London Fashion Week Men's Autumn Winter 2018 show, one of Mack's many collaborations with the menswear designer that signify his ongoing observation of and interaction with the world of fashion.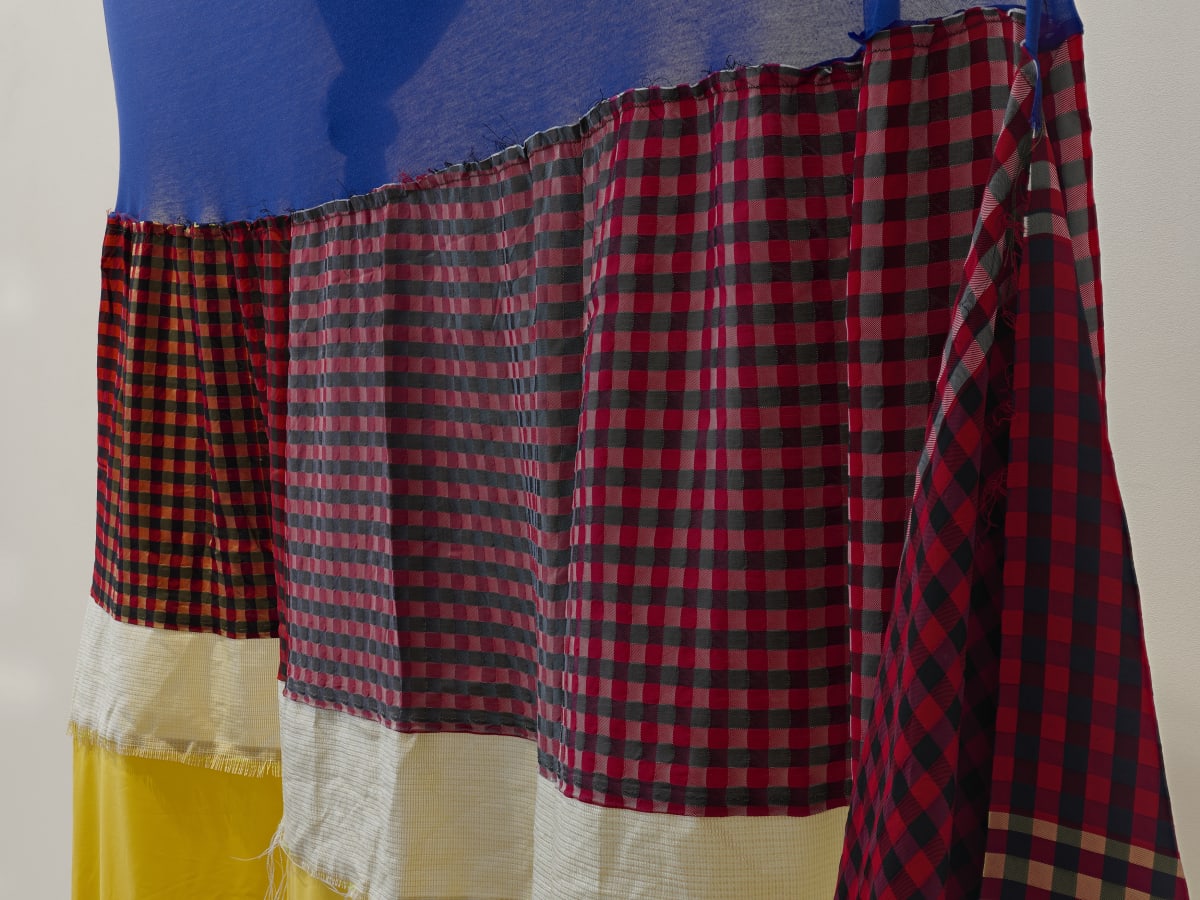 Using swathes of fabric to activate the space, these works represent painting in its most dynamic state. In addition, the works on paper included below, which can also be considered as studio artefacts, deal with colour, composition and form in the same way as the works made from fabric - each representative of the artist's approach to the act and process of painting.
Jessica Bell Brown and Eric N. Mack on Sam Gilliam, Dia:Beacon, NY, 23 November, 2019
Conversation: Eric N. Mack with Tim Marlow, Simon Lee Gallery, London, UK, 12 April, 2018
Eric N. Mack was born in 1987 in Columbia, MD and lives and works in New York, NY. He received his BFA from The Cooper Union, New York, NY and his MFA from Yale University, New Haven, CT. In 2017, Mack was the recipient of the inaugural BALTIC Artists' Award and completed artist residencies at the Rauschenberg Residency, Captiva Island, FL and Delfina Foundation, London, UK. His work has been shown extensively internationally and has been the subject of numerous solo exhibitions including Scrap Metal Gallery, Toronto, Canada (2019); The Power Station, Dallas, TX (2019); Brooklyn Museum, New York, NY (2019); Simon Lee Gallery, London, UK (2018); BALTIC Centre for Contemporary Art, Gateshead, UK (2017); Albright-Knox Art Gallery, Buffalo, NY (2017). Major group exhibitions include Whitney Biennial, Whitney Museum of Modern Art, New York, NY (2019); Desert X, Coachella Valley, CA (2019); Serpentine Gallery, London, UK (2019); Kunsthalle Basel, Basel, Switzerland (2017); Massachusetts Museum of Contemporary Art, Massachusetts, MA (2017); Pulitzer Arts Foundation, St Louis, MO (2017); Camden Arts Centre, London, UK (2016); and MoMA PS1, Long Island City, NY (2015).