"I wonder how these routines may link to time and memory. And further, should it be true that knowledge is now computed far more than it is thought, I wonder if I shall have an increased amount of spare time to think about these things in the future, much as, in the past, Constable was able to paint the same country lane again and again, his head freed to think about the places he saw outside. I am not sure if there may be any significance in these observations of mine, or if indeed they represent already well-known features of the human brain, but I am pleased to offer them in good faith to general readers and to science alike by means of this short text."
- Josephine Pryde in her essay Constable, included in Anarchic Sexual Desires of Plain Unmarried Schoolteachers, edited by Chris McCormack, 2015.
Time and the Tampon is the title Josephine Pryde gave the four 3D prints which she produced as part of her exhibition In Case My Mind Is Changing at Simon Lee Gallery in 2018:
She held a tampon between her finger and thumb, and an image popped into her head, of the chemist in Chancery Lane where she had bought the box of tampons.
The form that each 3D model eventually assumed was derived from the spatial memory triggered when Pryde had picked up the tampon in her right hand. It is a print from memory of the contours of a volume.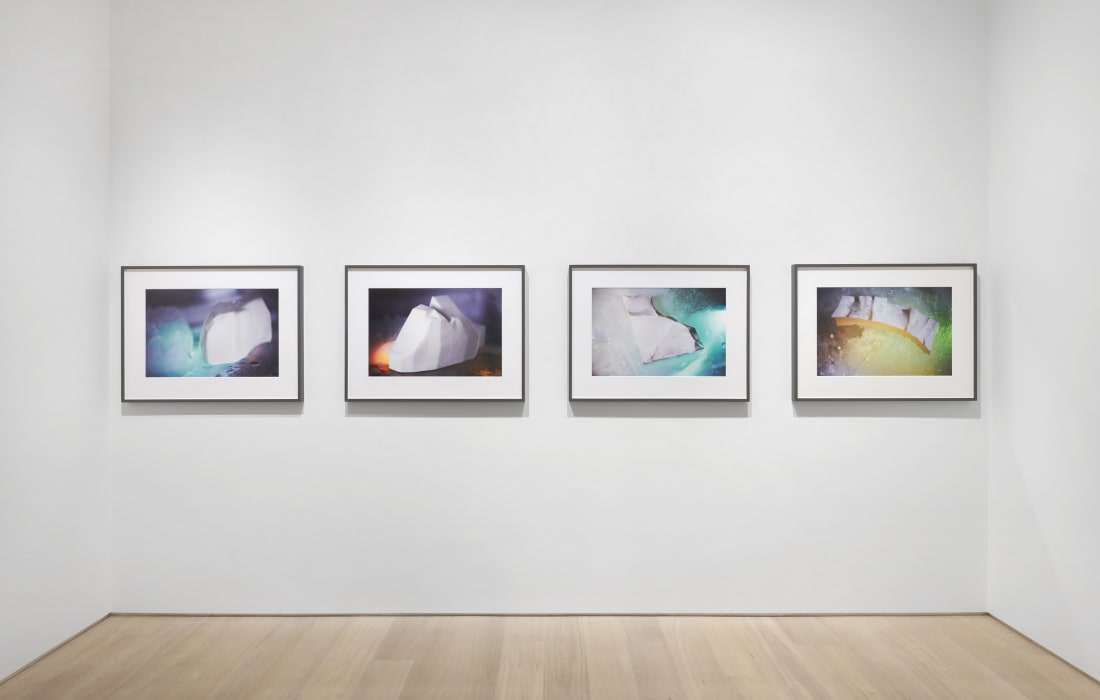 For Time and the Tampon (Frost), 2019, Pryde photographed smaller versions of the same models. She placed them on the glass shelves of a deep freeze unit and lit them using small torches and filters, the bright colours emulating on a minute scale elements from a Nick Knight shoot that she had seen in a magazine.
To whom am I writing if I write about cycles? A woman's cycle. A woman's cycle gets her places. She rides it from A to B. How does a cycle end? It revolves elsewhere. Poppy sent me an email with the subject heading: OVR and I thought she had abbreviated 'ovary' until I realised it stood for Online Viewing Room.
Adding Frost to the title of these photographs suggests a change of state, a suspension of flow, even as the romantic stains of artificial light seek to animate the lump of white printed nylon and the melting, icy territory in which it sits.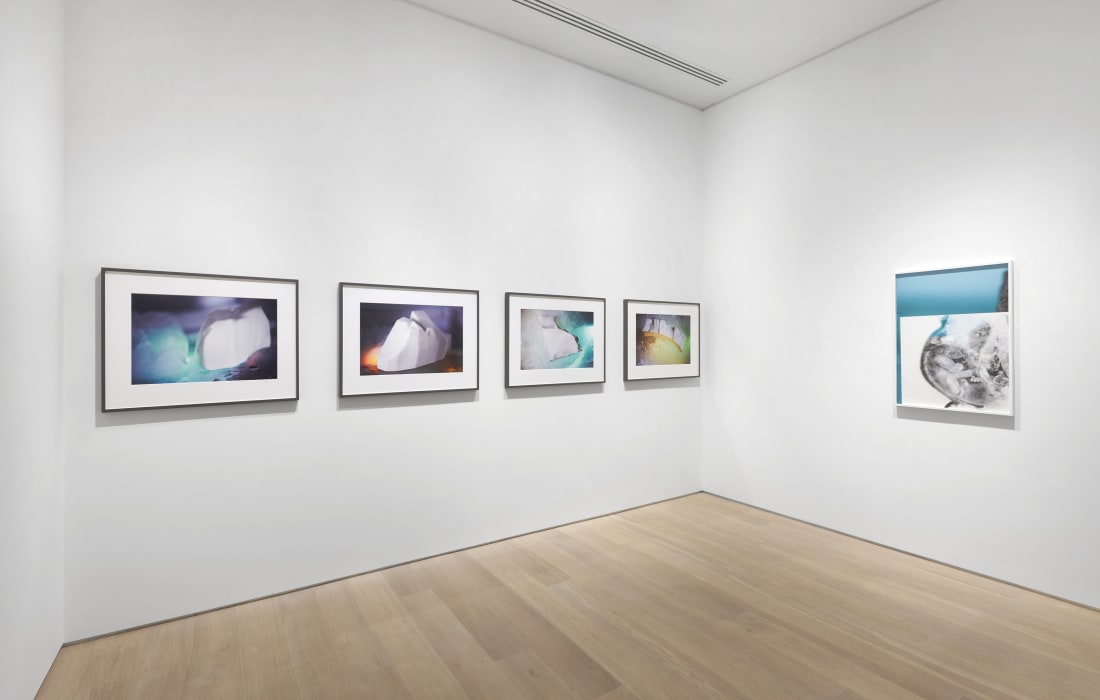 What of the landscape of the cycle in the selection of images from a sequence of earlier works, It's Not My Body, 2011? MRI scans of a pregnant woman, showing the foetus in her womb from various perspectives, are superimposed onto photographs Pryde made in a rocky, lava-like landscape, where cacti grow and lakes may be naturally green, or shot magenta through filters. Here, collage comes to imagine a mutual incubation of mother and child occurring variously across stretches of pocked and unyielding landscape, balanced on tips of succulent cacti or nestling in web encrusted rocks. Where is the child born? Who bears them?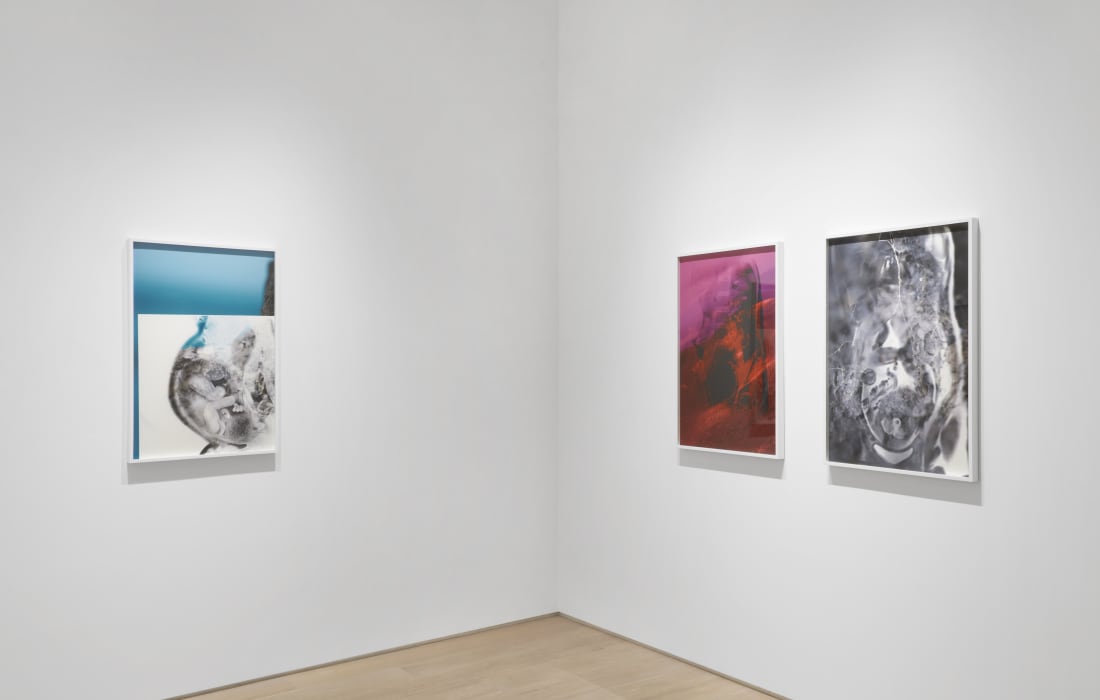 Josephine Pryde was born in Alnwick, UK, in 1967 and lives and works between London, UK, and Berlin, Germany. Since 2008, she is Professor of Contemporary Art and Photography at the University of the Arts, Berlin, Germany. In 2016 she was nominated for the Turner Prize presented by Tate Britain, London, UK. Notable solo museum exhibitions include ICA Philadelphia, PA (2015); CCA Wattis Institute of Contemporary Arts, San Francisco, CA (2015); Arnolfini, Bristol, UK (2014); Kunsthalle Bern, Switzerland (2012); Kunstverein Düsseldorf, Germany (2012); Chisenhale Gallery, London, UK (2011); Secession, Vienna, Austria (2004). Major group exhibitions include Mudam, Luxembourg (2021); Museum Moderner Kunst Stiftung Ludwig Wien, Vienna, Austria (2019); Museum of Modern Art, New York, NY (2019); National Museum, Oslo, Norway (2018); McEvoy Foundation for the Arts, San Francisco, CA (2017); KunstnernesHus, Oslo, Norway (2017); Malmö Konsthall, Malmö, Sweden (2017); Berlin Biennale 9, (2016); Kunsthalle Bern, Switzerland (2016); Centre Pompidou, Musee National d'art Modern, Paris, France (2016); Whitney Museum of American Art, New York, NY (2016); National Gallery of Kosovo, Kosovo (2015); Künstlerhaus Stuttgart, Stuttgart, Germany (2016); Künstlerhaus, Graz, Austria (2014); MoMA, New York, NY (2013). Her work is represented in major institutions and private collections worldwide including Fonds National d'Art Contemporain, Paris, France; British Council, London, UK; Stedelijk Museum, Amsterdam, The Netherlands; The Metropolitan Museum of Art, New York, NY; Museum of Contemporary Art, Los Angeles, CA; Museum of Modern Art, New York, NY; The Art Institute of Chicago, Chicago, IL.