'Among the objects that have appeared now and then in my work over the years, you will find violins, ladders, books, butterflies, shells, plaster moulds, rags, eggs, deer antlers, birds' nests, shoes, torn maps of the sky, blood, snakeskins, leaves, boats. To some they are symbols. I call them presences; things that the eye observes and which belong to life.'
- Claudio Parmiggiani
For the last 40 years Claudio Parmiggiani has concentrated his practice on themes of memory, absence and silence. Deeply personal contemplations on life and death, the power of reflection and feelings of the sacred are realised in concrete objects, photographic and painted images, and in his signature Delocazione.
Over his long career Parmiggiani has developed a language which is simultaneously intimately personal and universal. He expresses himself through images realised with humble, often elemental or immaterial, materials, such as glass, plaster, smoke and fire, stone, and metals. Gathering fragments of the world - butterflies, books and fragments of sculpture, for example - he creates unusual images, which are chosen for their evocative power. Parmiggiani's overarching thesis is his search for an image, object or assemblage that transcends time and individual experience to evoke a universal, existential truth. It is a search that is at the heart of his practice, an excavation of history and mythology that is rendered still, silent and impervious to time.
'"Delocazione", which I made in 1970, was a work created from the observation of a space, a room found in a museum, an abandoned place, where the only presences were the marks of the objects I had removed. A room of shadows, shadows of pictures taken off the walls, shadows of shadows, like seeing behind a veil another veiled reality and behind this other veiled reality, another still and other veiIs, and so on until losing oneself in infinity, seeking an image and through this image the desire to catch sight of oneself. I had presented this room of shadows as a work; a place of absence as a place of the soul.'
- Claudio Parmiggiani
'This is a work made of ashes, an ethereal work, made of silence and with the material of time. A work made of burnt words; as fragile as the wings of a butterfly. Butterfly in Greek is psyché and psyché also means soul. An allegory, a metaphor, a path with a physical dimension and a metaphysical dimension.'
- Claudio Parmiggiani
Parmiggiani immortalises clouds of butterflies as they rise in flight or as they sit in stillness. The delicate white imprints of their wings flutter out of a fog towards the viewer in the artist's Delocazione. Vividly eternalised, they rest upon a white canvas or in the wooden case of a contrabass. Butterflies represent ancient and universal symbols of change, personal transformation and the stages of the life cycle. In his ephemeral oeuvre, the artist captures them at their most evocative, freezing movement and suggesting the inevitable passage of time.
Parmiggiani's oeuvre is profoundly informed by philosophy, poetry, literature and history. He collects myriad rare volumes; his home and studio are crowded with books and manuscripts. Referencing the idea of culture as memory, the book is another recurring motif throughout the artist's practice. The fundamental role of the book in his work is rooted in the principle that human knowledge, culture and history is disseminated and transmitted through books, libraries, reading and teaching. The books on the shelves of Parmiggiani's haunting libraries appear burned, dematerialised, vapourised; as residue of a fragmented humanity. In Naufragio con Spettatore, for example, a colossal Egyptian felucca is wrecked as it sails on a bed of a hundred thousand books evoking a society where the depository of thought, culture and memory is in peril.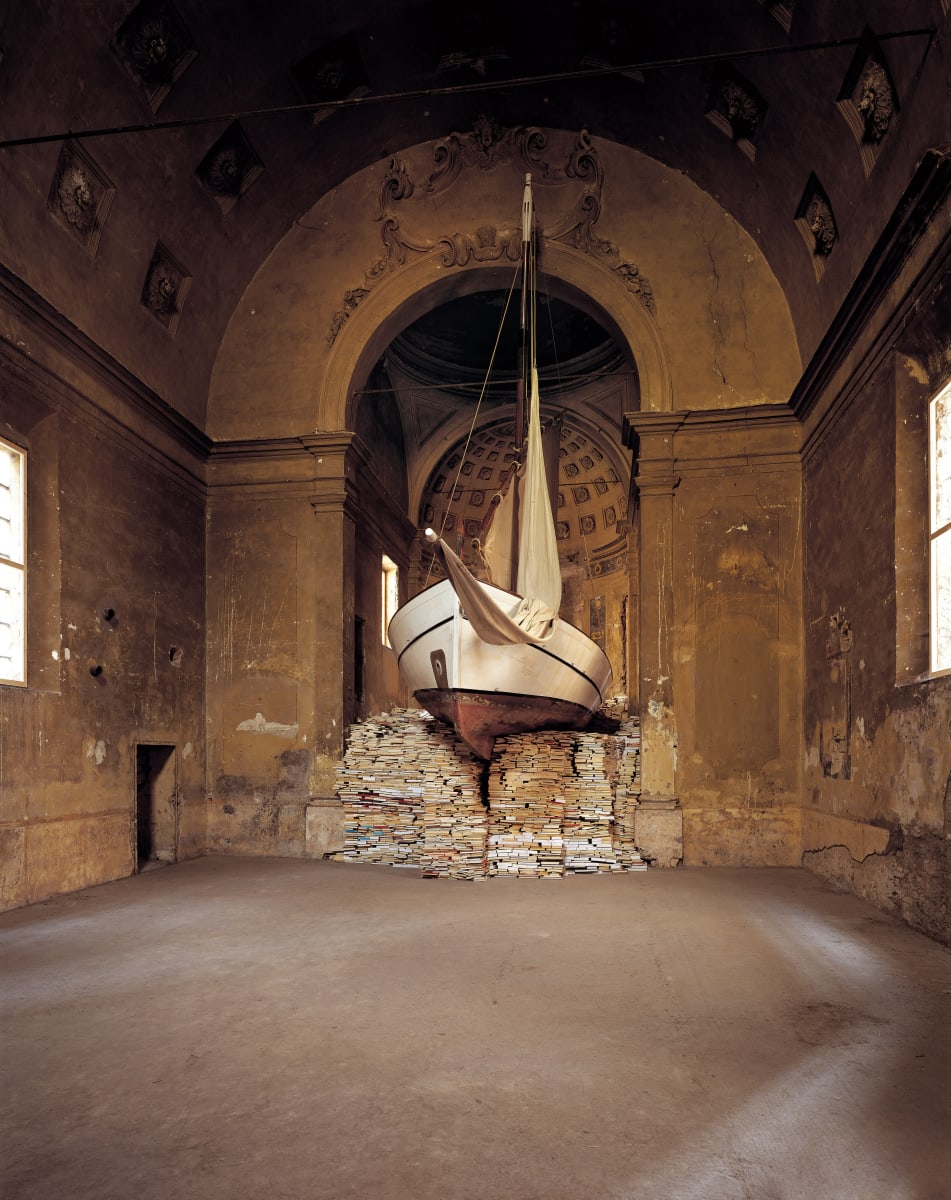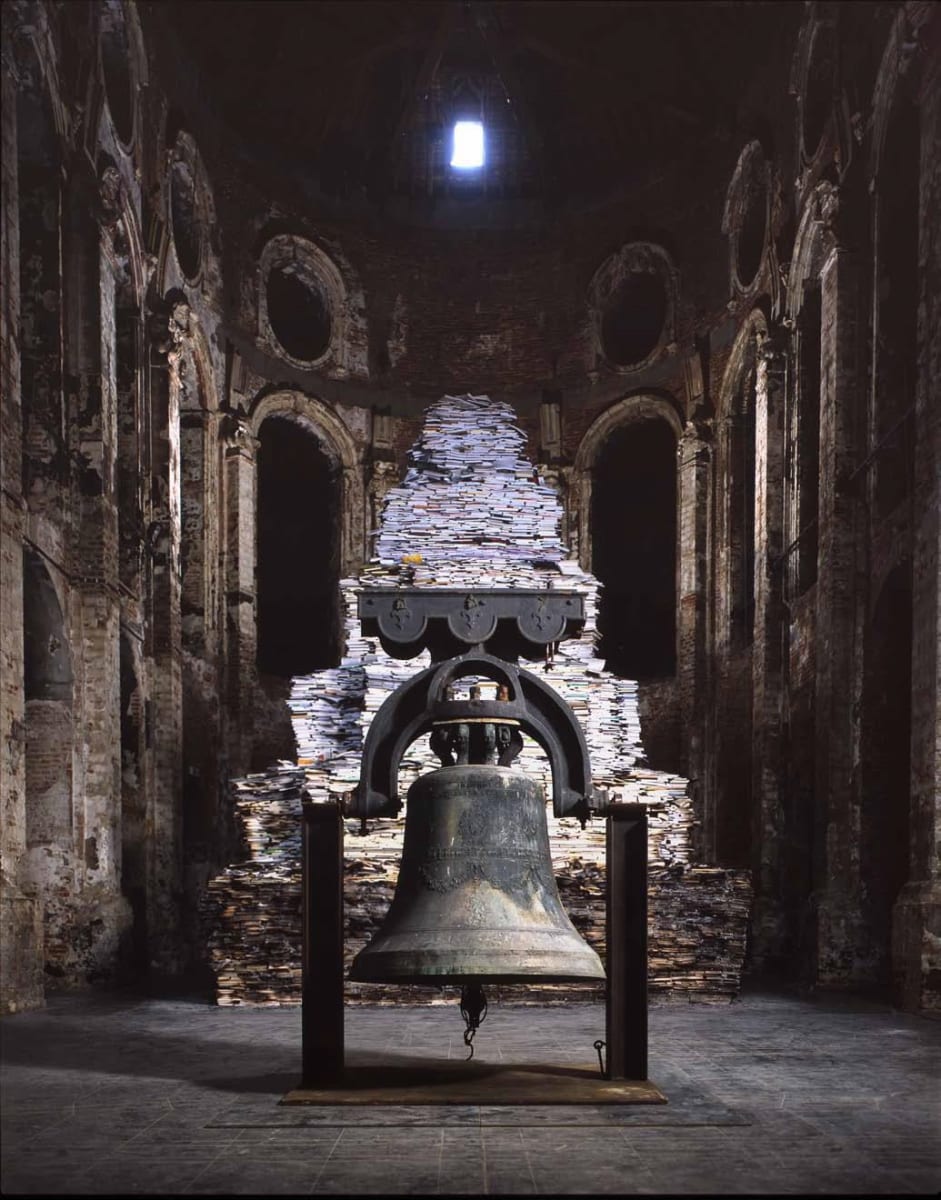 Fragments of classical sculpture have always played a fundamental role in Parmiggiani's work. Pieces of plaster - heads, hands, breasts, busts - speak to us of the human body experienced in timeless form, which we have inherited from antiquity.
'Choosing an image, for example a detail from an ancient work, as an element for a new work, does not at all mean referring to the ancient. It means taking the liberty of choosing the visual places of one's own imagination anywhere, inside a picture or inside reality is the same thing, both belong to my present.'
- Claudio Parmiggiani
ABOUT CLAUDIO PARMIGGIANI
Claudio Parmiggiani was born in Luzzara, Italy in 1943 and lives and works in Parma, Italy. Parmiggiani's work has been widely exhibited in international museums and collections. His work has been shown six times at the Biennale di Venezia, Venice, Italy (1972, 1982, 1984, 1986, 1995 and 2015). Recent solo exhibitions have been held at the Frist Museum, Nashville, TN (2019); Accademia di Francia Villa Medici, Rome, Italy (2015); Ex Oratorio di San Lupo, Bergamo, Italy (2014); Chiesa San Fedele, Milan, Italy (2014); Palais des Beaux Arts - BOZAR, Brussels, Belgium (2013); Palazzo del Governatore, Parma, Italy (2010); Collège des Bernardins, Paris, France (2008); Palazzo Fabroni Arti Visive Contemporanee, Pistoia, Italy (2007); The Musée des Beaux-arts de Nantes, Nantes, France (2007); The Grand Palais, Paris, France (2005); Galleria d'Arte Moderna di Bologna, Bologna, Italy (2003); Museum of Art, Tel-Aviv, Israel (2003) and Musée Fabre, Montpellier, France (2002). A retrospective of his practice between 1960 and 1995 was held at the Musée d'Art Moderne et Contemporain, Geneva, Switzerland (1995). His work is part of the collections of Centre Pompidou, Paris, France; Stedelijk Museum Amsterdam, Amsterdam, The Netherlands; Museo de Bellas Artes of Havana, Havana, Cuba; The National Gallery of Iceland, Reykjavík, Iceland; Mamco - Musée d'Art Moderne et Contemporain, Geneva, Switzerland; Fondation Cartier pour l'art contemporain, Paris, France; Francois Pinault Foundation, Venice, Italy and Museo del Novecento, Milan, Italy.
Simon Lee Gallery, London is pleased to announce a solo exhibition of Claudio Parmiggiani in June-July 2021.
Header Image: Claudio Parmiggiani, Italian Pavilion, Biennale di Venezia, Venice, 2015. Photography: Lucio Rossi, Studio Foto R.C.R, Parma.
Learn more about Claudio Parmiggiani