For its 2020 Frieze London Viewing Room, Simon Lee Gallery is proud to present new and existing works by a selection of gallery artists including Angela Bulloch, Mel Bochner, Dexter Dalwood, Rachel Howard, Alex Hubbard, Donna Huddleston, Eric N. Mack, France-Lise McGurn, Paulina Olowska, Jim Shaw and Toby Ziegler, amongst others.
Highlights include Dexter Dalwood's An Inadequate Painted History of Mexico XI, 2020, the sixth painting in his Mexico series, first conceived of during his 2018 residency at Casa Wabi; a new urethane painting by Alex Hubbard; Spider Painters, 2020, a riotous mixed media piece by Paulina Olowska; and Nuclear Family, 2020, by Toby Ziegler, which pays tribute to Jan van Eyck's iconic Arnolfini Portrait and is presented in tandem with his exhibition at the London gallery. Ahead of his show, Hope Against Hope at the gallery later this autumn, Jim Shaw presents The Light of the West, 2020, which interrogates themes of wealth discrepancy in contemporary American society.
Making their debuts as part of the Simon Lee Gallery programme, Rachel Howard presents Slip Slide Curl Lick, 2020, an abstract painting that captures the artist's concern with the interaction of chance and chaos in her practice, while Donna Huddleston's Costume Drama, 2020, is a sumptuous drawing in colour pencil that explores the psychology of theatre. Rounding out the presentation is France-Lise McGurn's luscious large-format painting, The Sun, 2020. McGurn is currently the subject of her first major solo museum exhibition at Kunsthaus Pasquart in Biel, Switzerland.
A selection of works from the Frieze Viewing Rooms presentation will be available to view at the gallery throughout Frieze week.
In Rachel Howard's abstract paintings chaos and control work in tandem. With a practice that is fundamentally concerned with the palpable sensation of contradiction, she manipulates the notion of painting – interrogating the medium, encouraging it to behave in unexpected and experimental ways. To create her lined paintings the artist builds up a structure, similar to a grid or a mesh of paint, only to unravel its foundations using varnish and turpentine. Determined by a combination of the weight and viscosity of the paint, the form of the painting relies upon precision and chance, as in Slip Slide Curl Lick where curlicues of pigment evoke a myriad of organic forms.
Rachel Howard has drawn, painted, photographed and reimagined this walkway, at her farm in England, countless times over the last decade. For Howard, this leafy path delivers an opportunity to paint in the manner of masters of the Realist and Neo-Classical tradition, such as Corot and Courbet. Alternately hopeful and foreboding, the landscape alters with the season, the light, and the artist's frame of mind.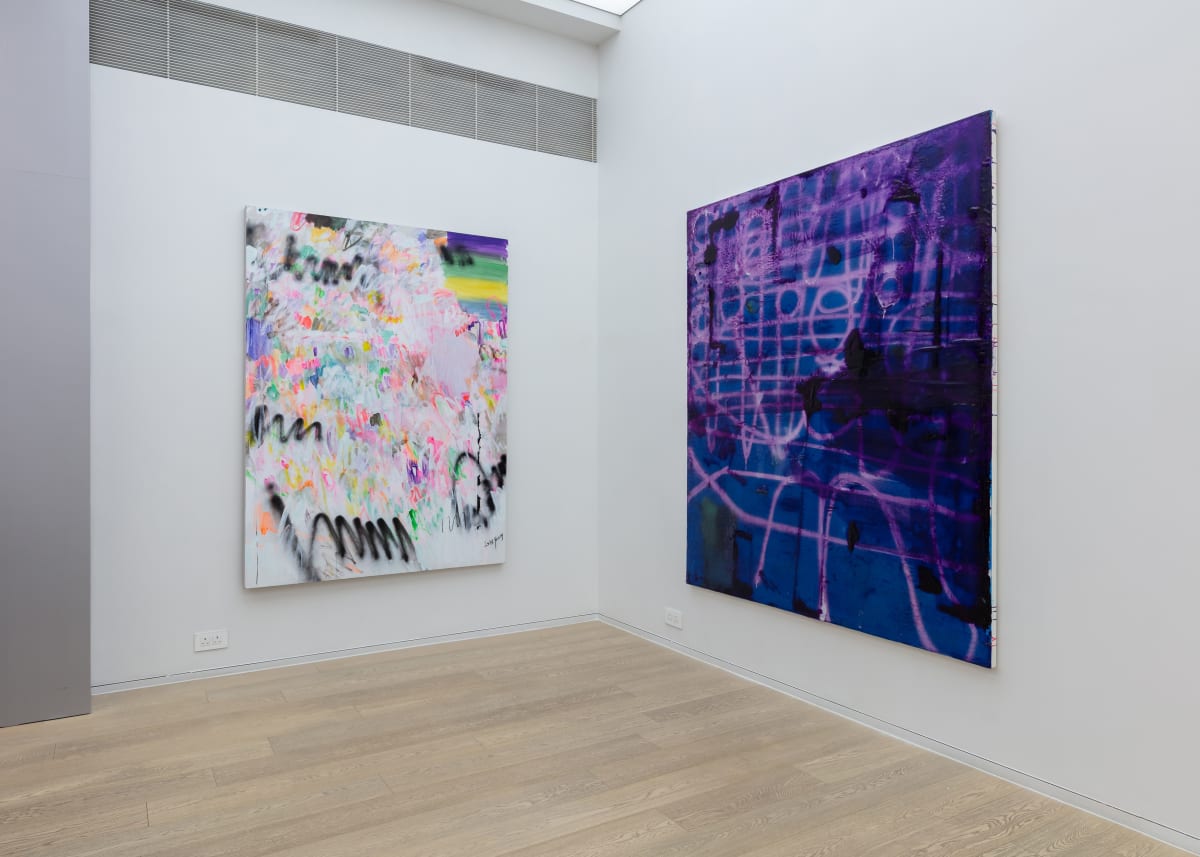 In Alex Hubbard's paintings fields of colour in fiberglass and resin are interrupted with richly pooled, dripped and poured paint. Working with fast-drying materials, such as epoxy and latex, the artist is forced to act quickly, embracing chance happenings and revelling in the autonomy of his chosen media. In Gamer Fantasies, pools of vivid red bleed into one another, enveloped by yellow and orange swathes of paint.
Jim Shaw plays on oppositions: alluding to past events in service of urgent commentary on the present day, highlighting the fantastic state of contemporary American life. In The Hope That Blinds, Shaw continues his fertile commentary on conspicuous consumption and the grotesquery of late capitalist culture. Here, a woman in a virginal white nightgown gazes downwards towards a retro-futuristic home appliance that since its first outing in a 1950s advertisement has defected its use value.
Jim Shaw is celebrated for the outlandish narratives and sharp wit with which he brings his dystopian, albeit eerily familiar, universe to life. Inspired by an advertisement from a 1950s copy of Fortune magazine, in which two businessmen are illustrated in conversation, The Light of the West reflects on the inequity at the heart of contemporary society as the United States prepares for its upcoming presidential election. Shaw depicts the two floating heads as glowing ghosts in the hallway of a haunted mansion.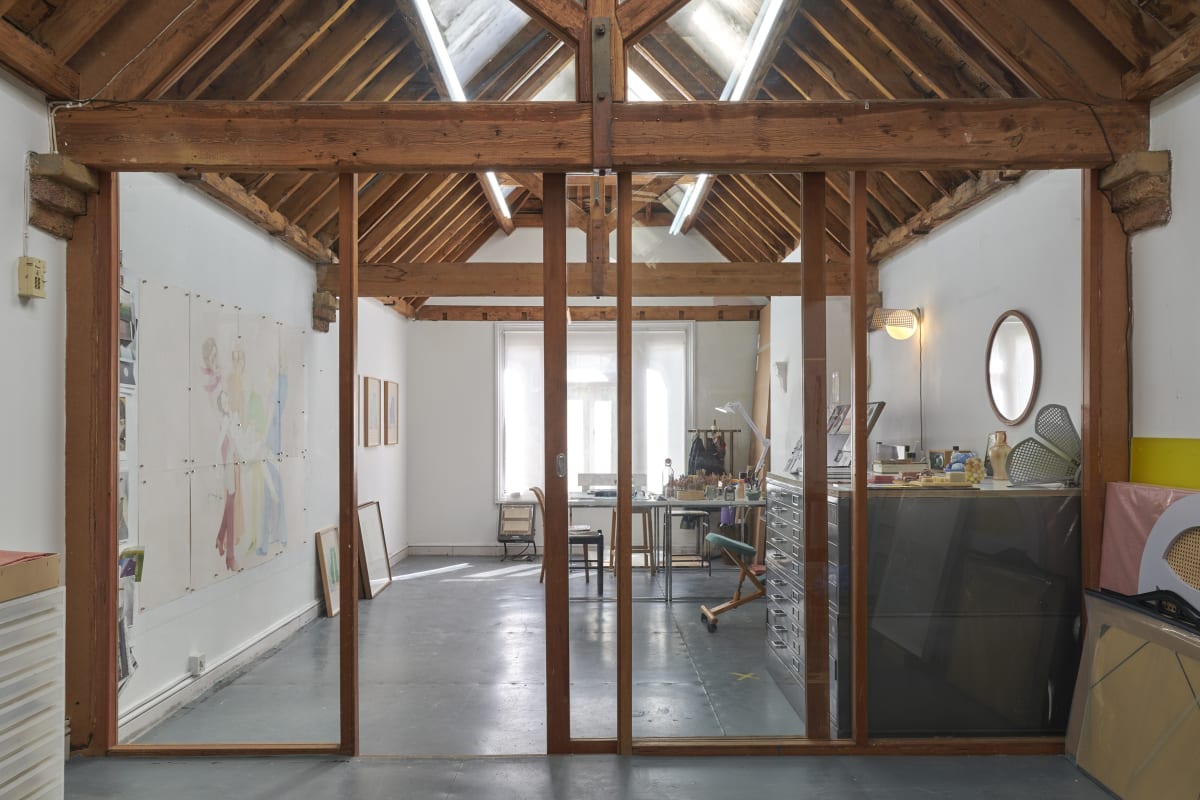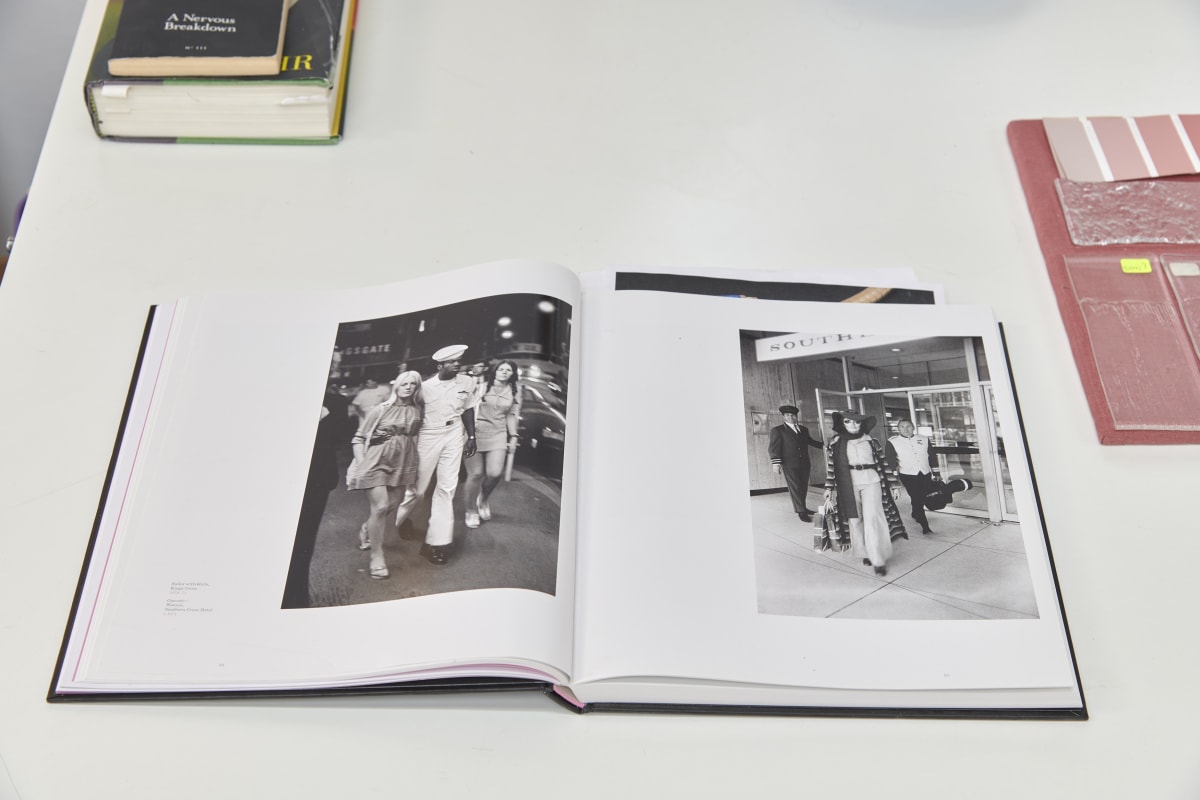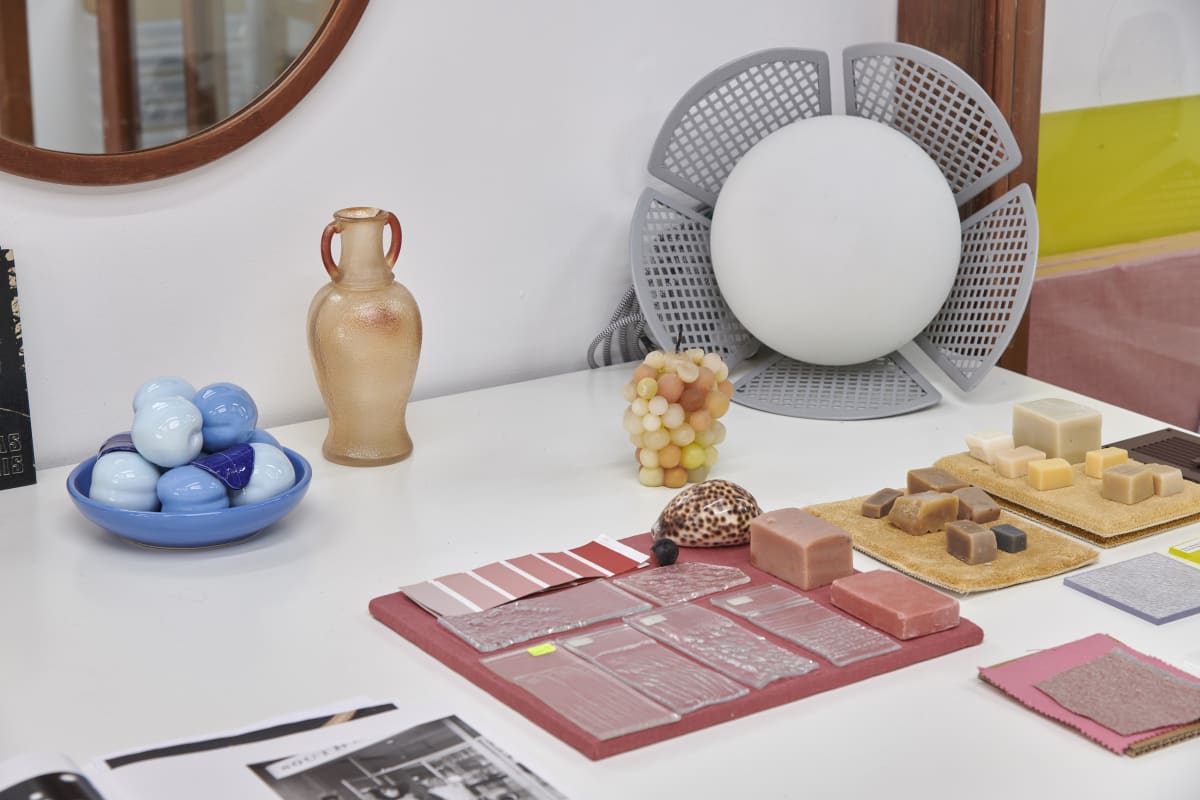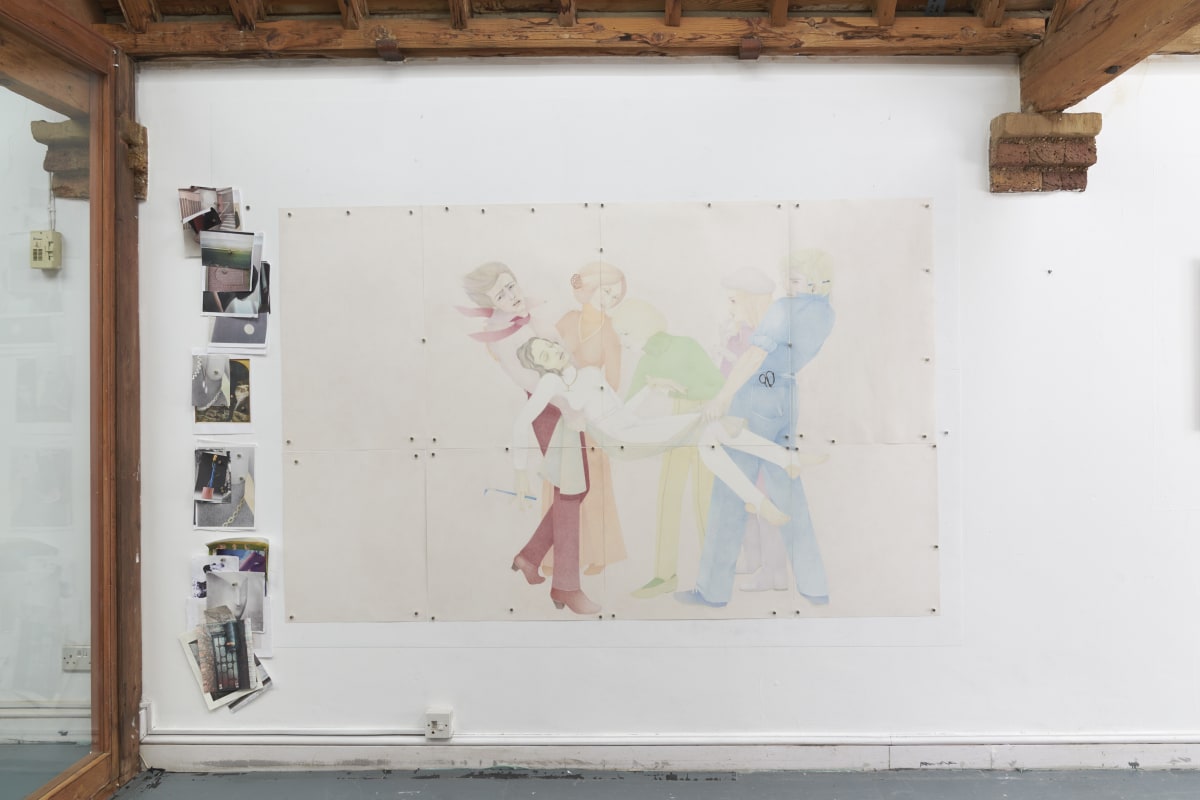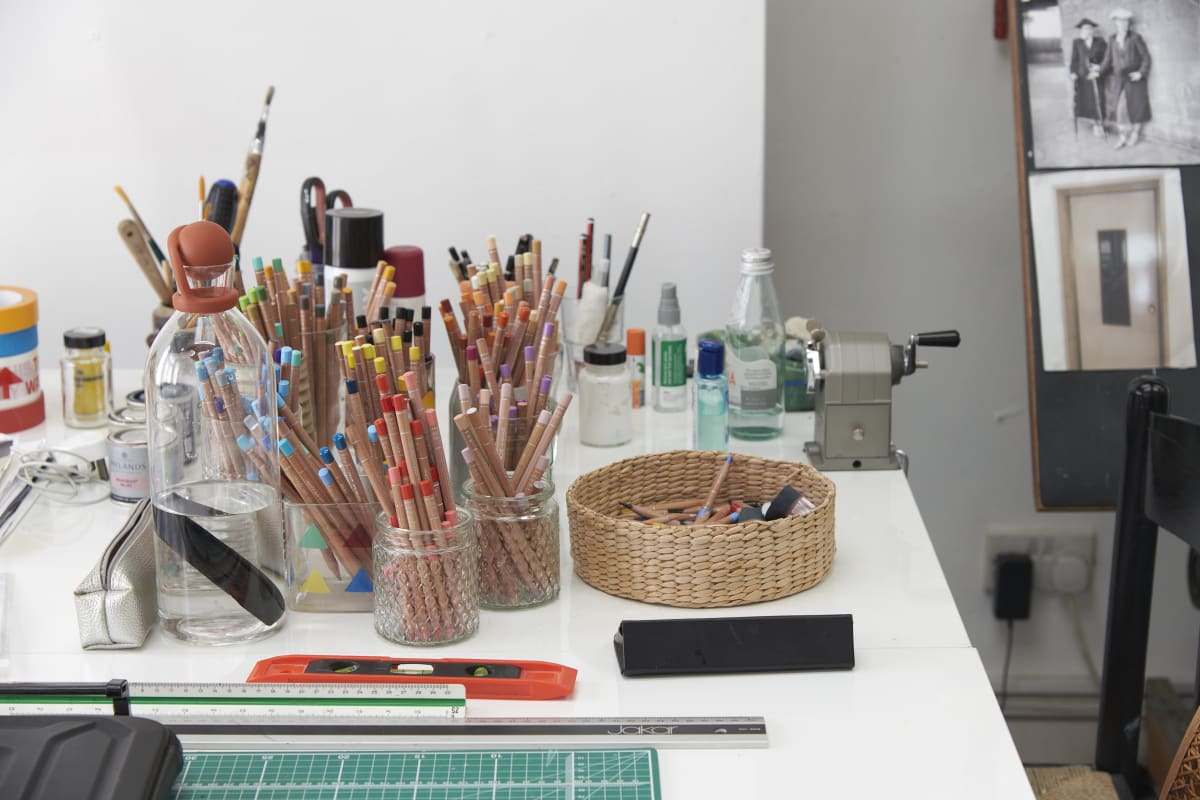 A figurative drawing made in colour pencil, Costume Drama extends Donna Huddleston's intensely psychological depiction of the world of acting and theatre. Formalistically, the work comprises a complex, yet sumptuous relationship between subject, colour, composition and pattern. Humour, likewise, is seldom distant from Huddleston's work; and as its title infers Costume Drama deploys colour as a covert agent of anxiety.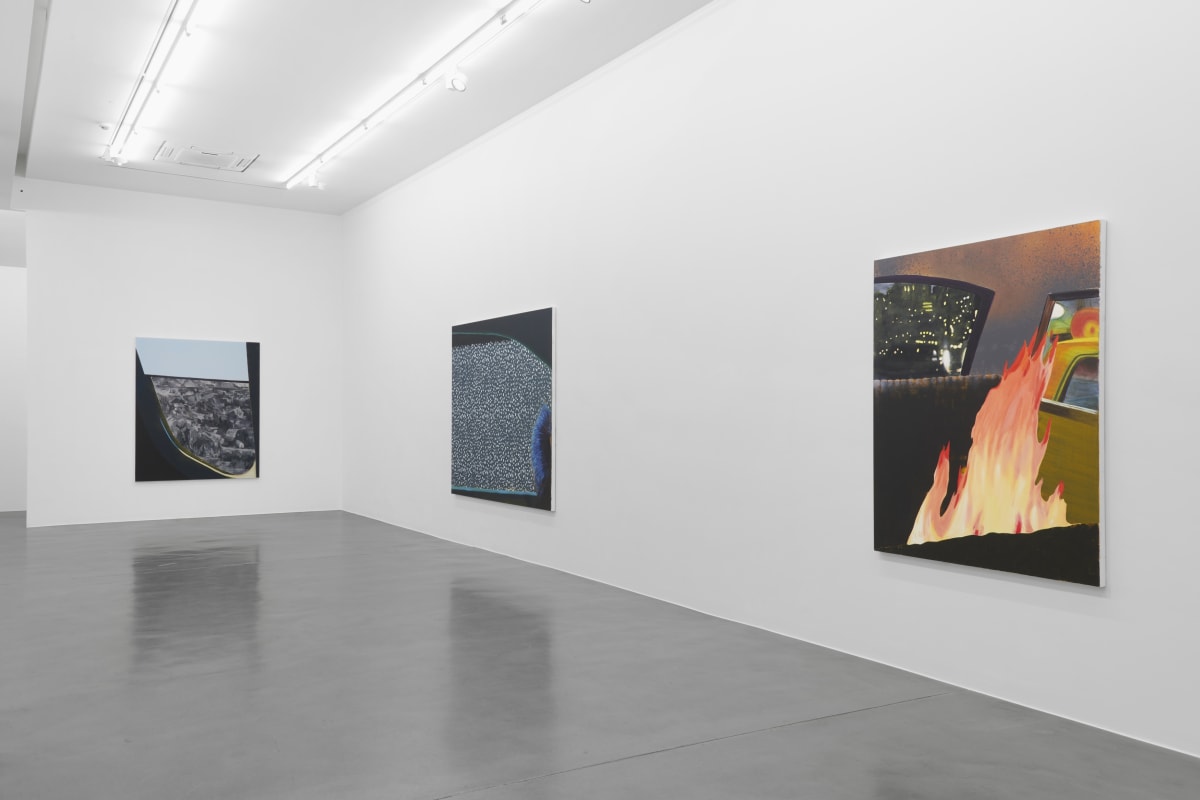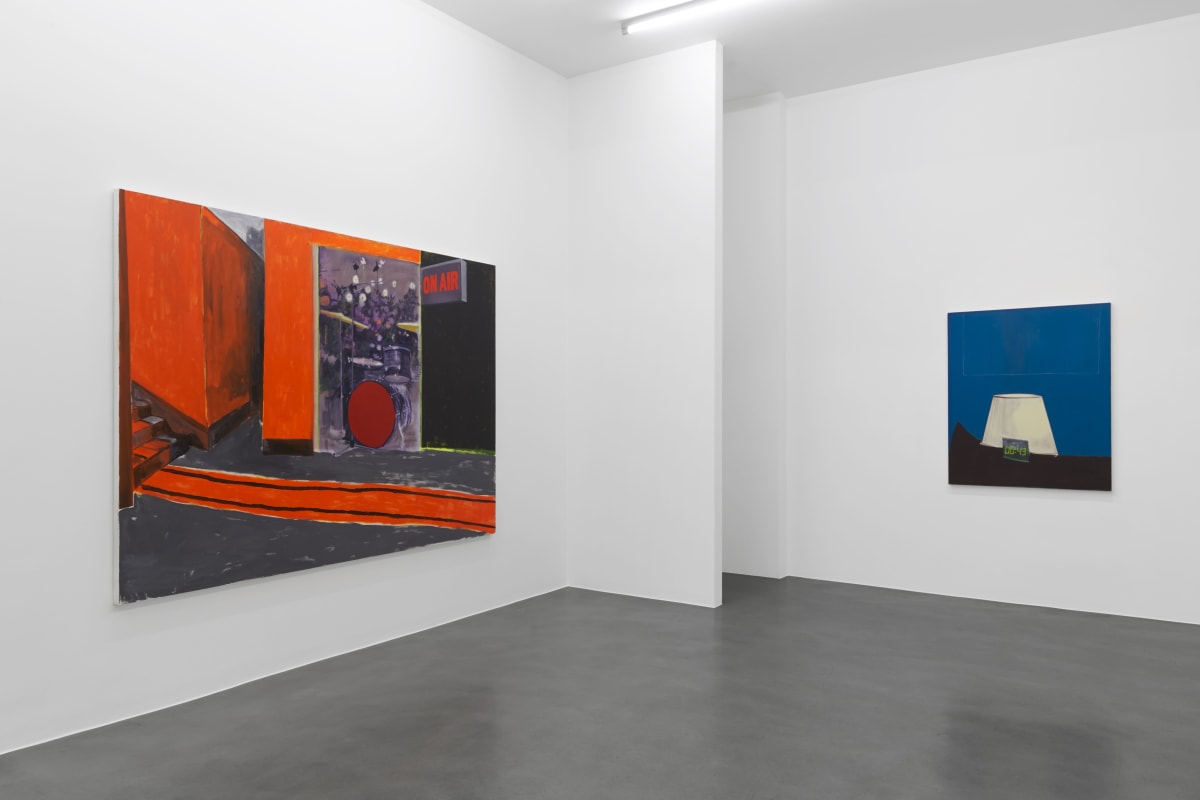 In his practice, Dexter Dalwood presents an ongoing investigation into the role of images and painting in the construction of history. In a new series inspired by Mexico, Dalwood unites observations from his time spent in the country (whilst on a residency at Casa Wabi, Oaxaca, in late 2017) with his personal brand of 'contemporary history painting', which weaves together visual quotations to express a space or a place that is more an abstracted mental image than a representation of the real.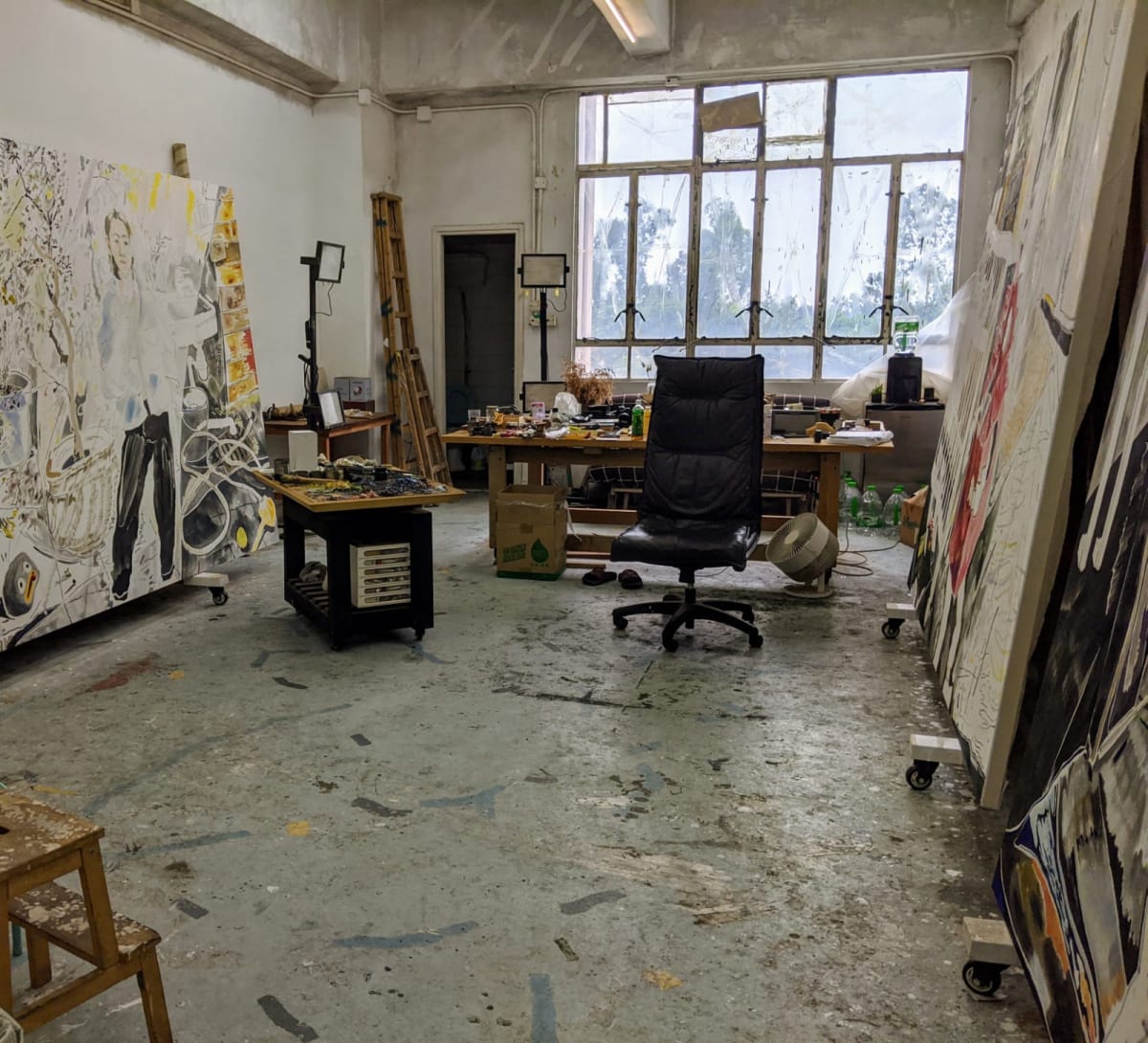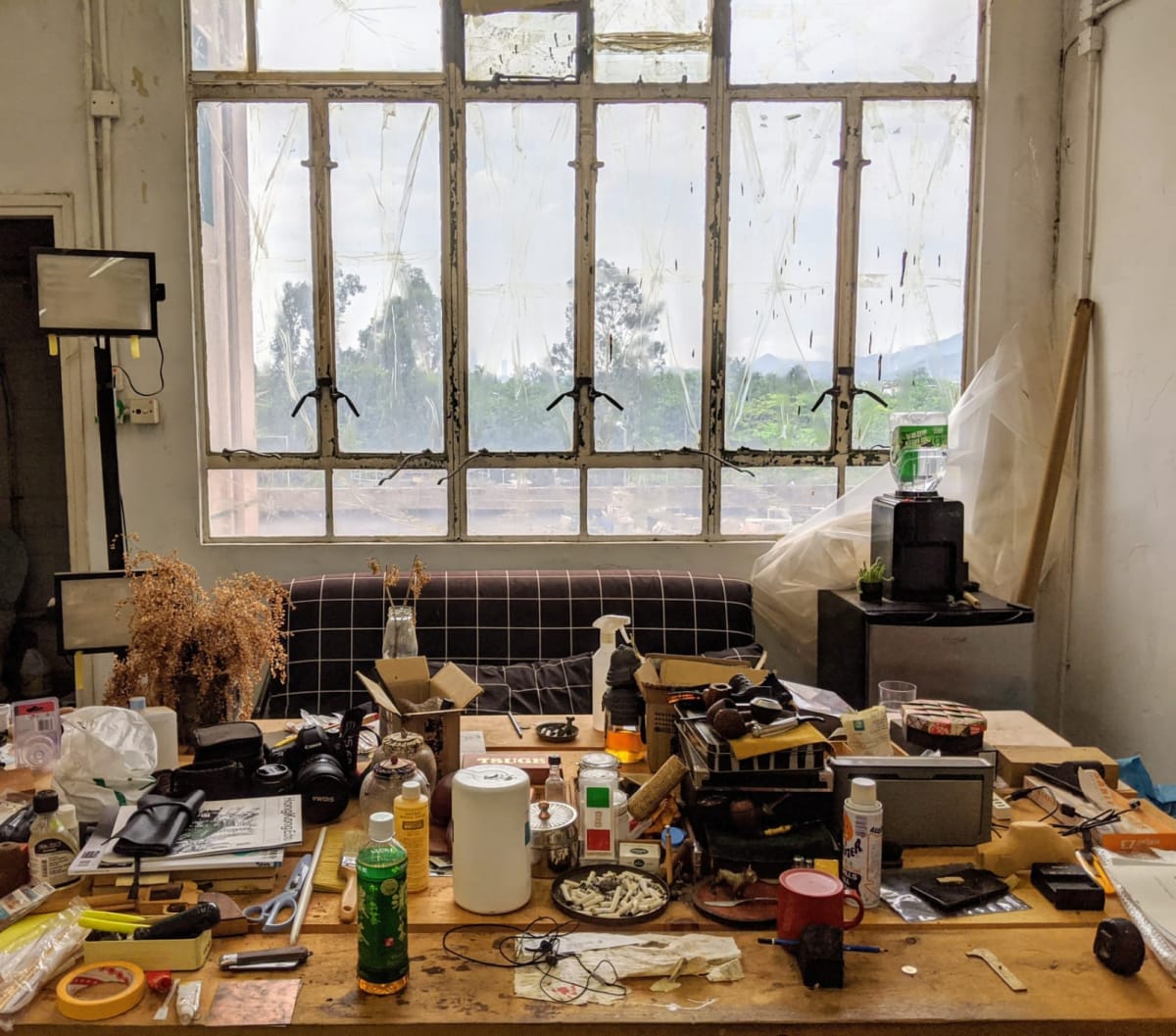 Chris Huen's large scale oil paintings are derived from observation of his own life, portraying quotidian experiences through a fresh set of aesthetic strategies that bring the domestic and surreal into compelling partnership. His technique, imbued with both deft abstraction and the hallmarks of traditional Chinese ink painting, involves layering one dab of paint over another until the pattern on the canvas echoes the spirit of the scene. The blank spaces and fragmented forms give voice to a specific moment and the way it exists, or perhaps escapes the artist's consciousness.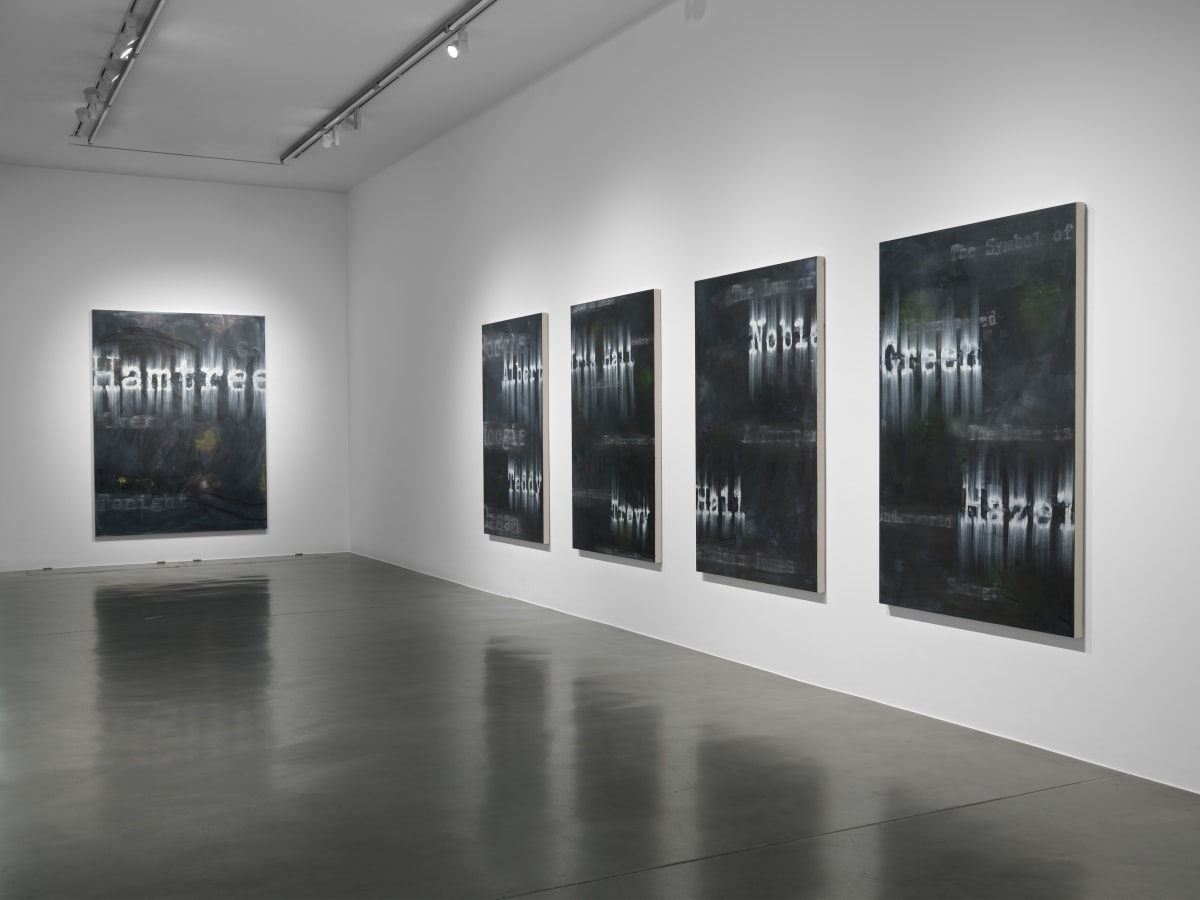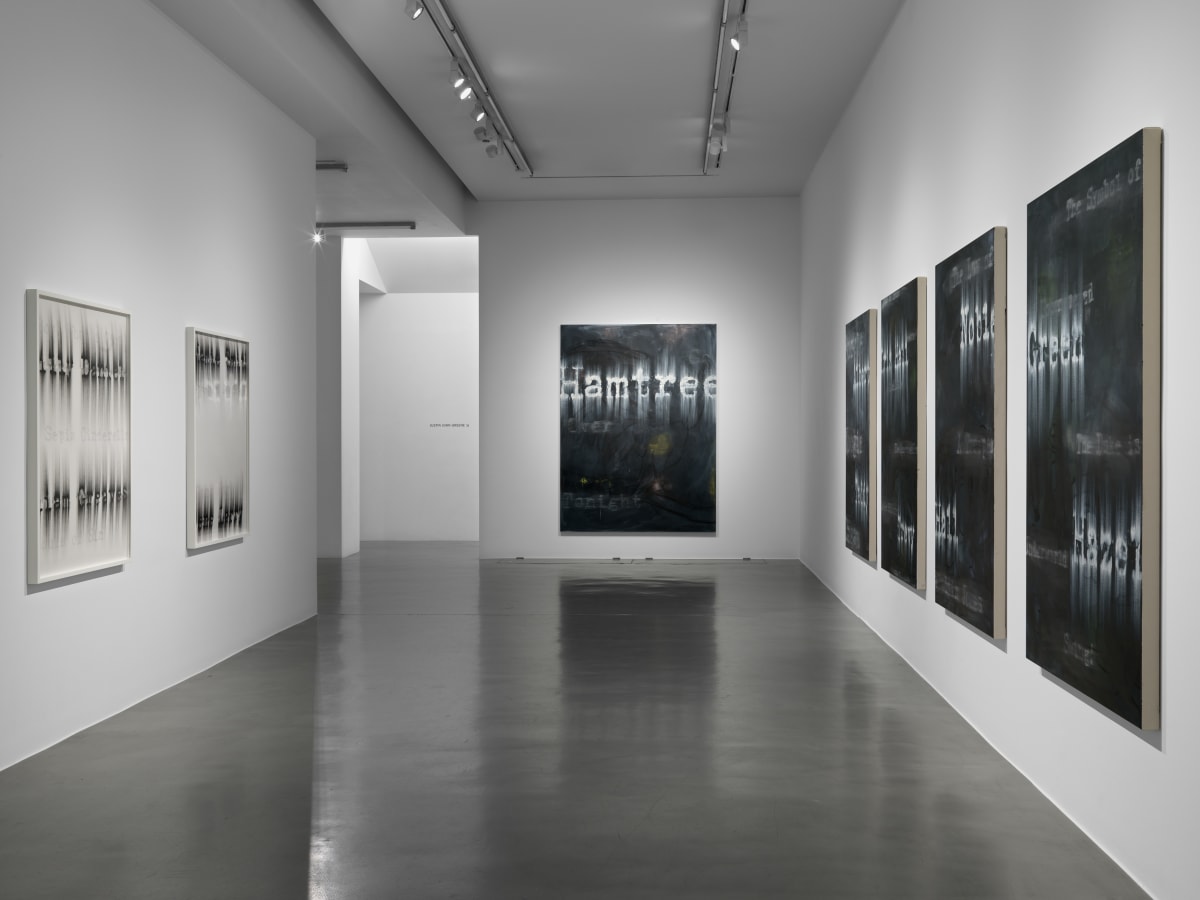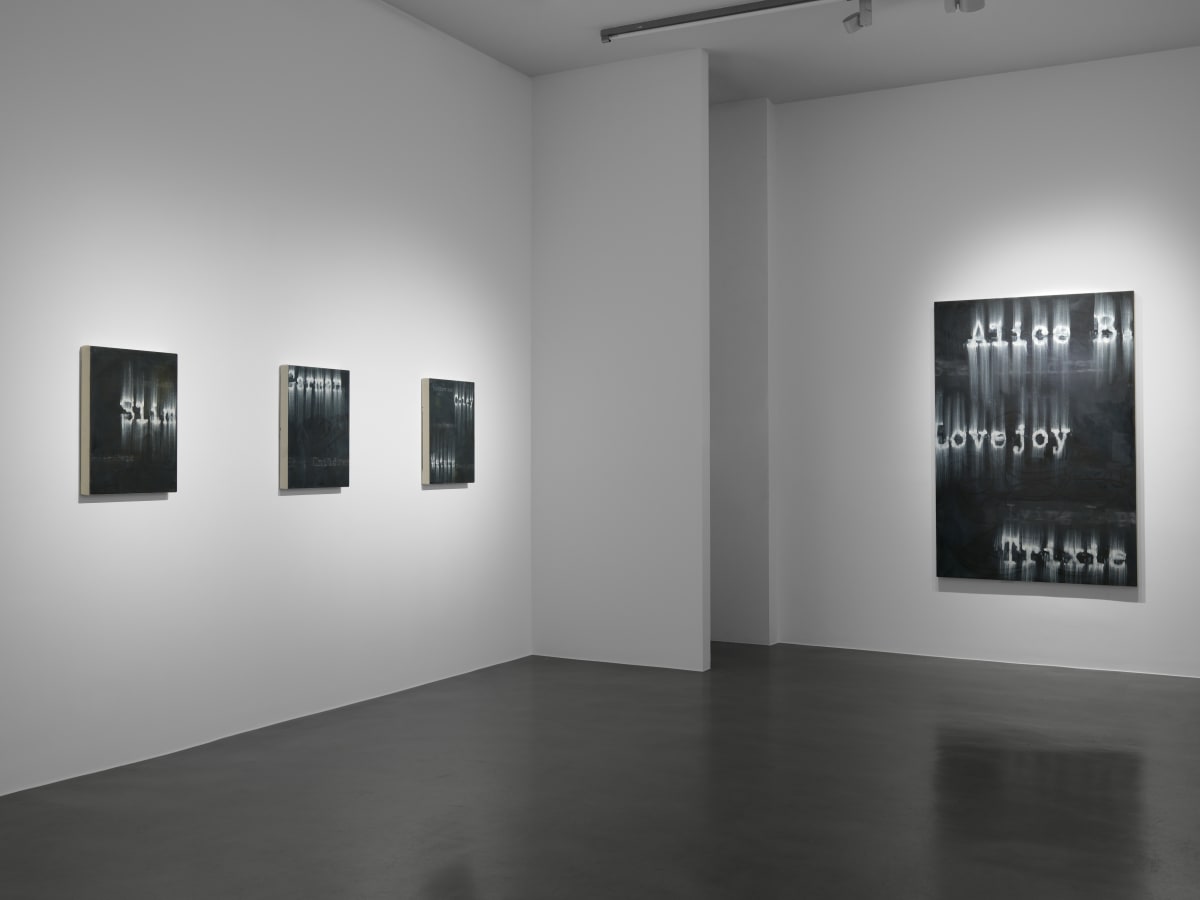 In a recent series of his signature 'erasure drawings', Gary Simmons depicts the names of African-American actors and actresses of the silver screen and the titles of the silent and early 'talkie' films in which they starred. Smudged as though white chalk on a blackboard, the names and titles emblazoned across these works reference the role of African Americans in the history of cinema, as well as black cultural production.
In King of Kings, Simmons spotlights the black sportsman, singer and actor, Paul Robeson, who was also an influential participant in the Harlem Renaissance and vocal political activist. Although he came to be a well-respected figure in Hollywood, Robeson was uncredited in many of the films in which he featured.
Hans-Peter Feldmann's works often propose a gently irreverent subversion of the structures and systems of value on which the art market and the wider art world are predicated. One consistent strand of his practice has involved the appropriation and modification of historic oil paintings – most often bourgeois portraits and genre paintings of the 19th century. Disrupting long-held assertions of the artist's role as a unique creator, Feldmann's appropriation of these sincere, nuanced, intimate portraits and his attention to the evocative formal qualities of paint on canvas seemingly penetrates a collective consciousness.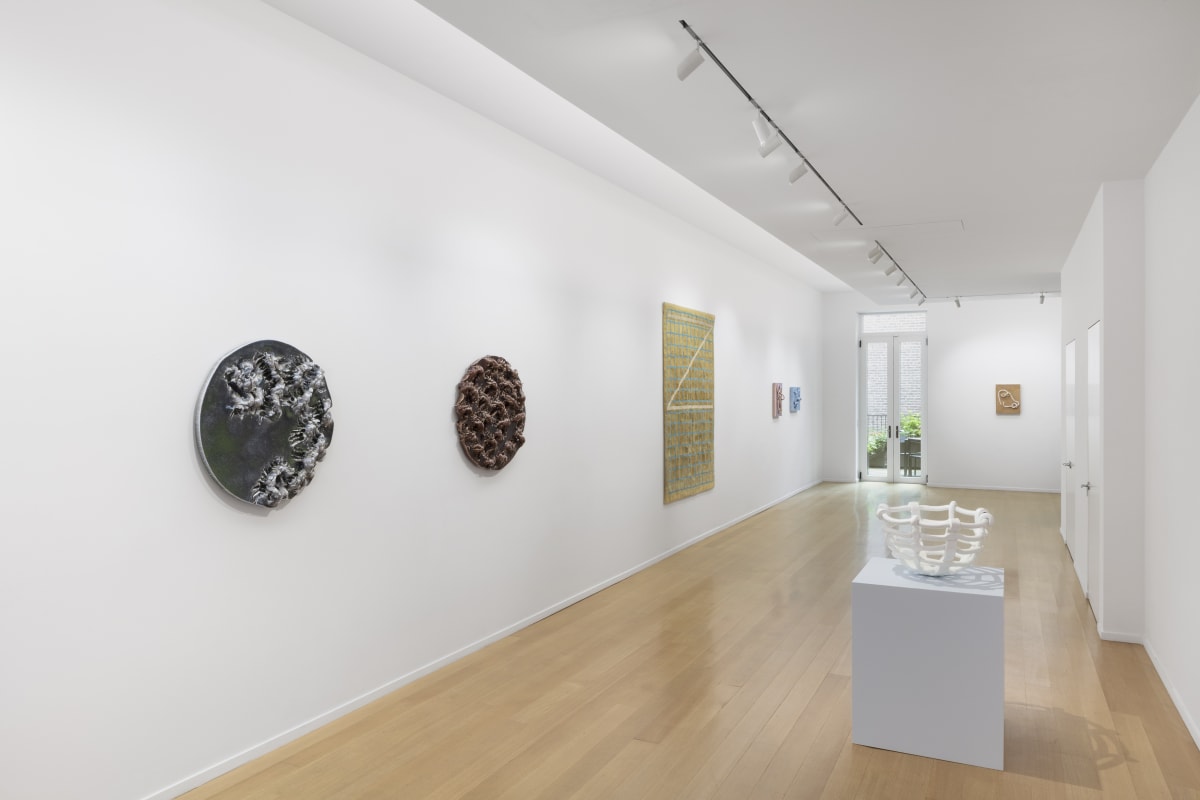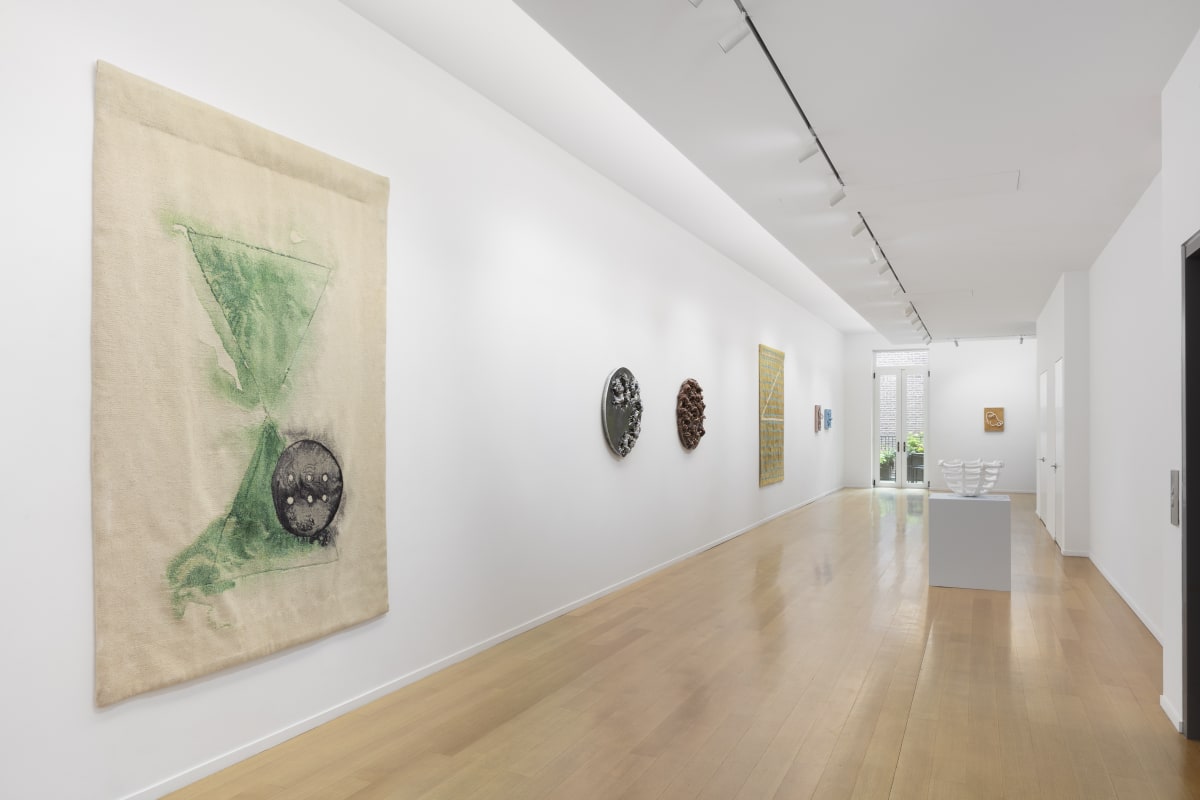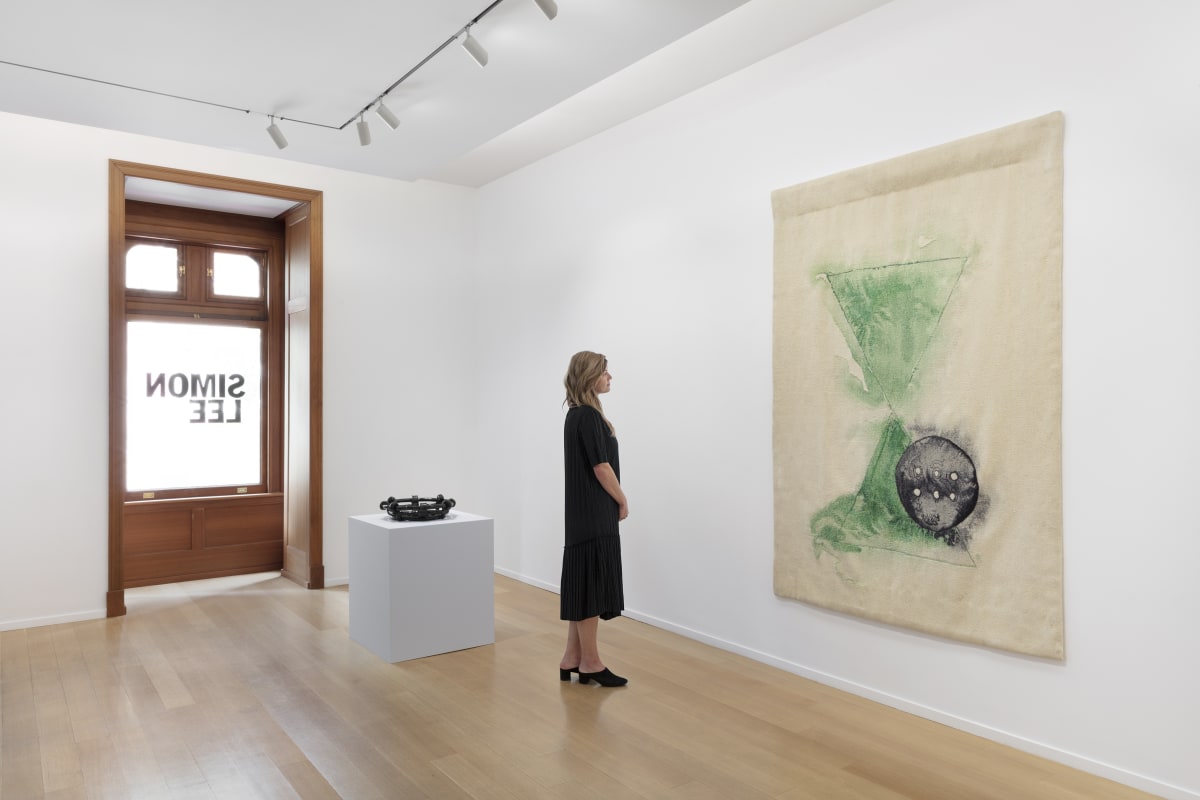 Made in Mexico on a high-warp loom, Flowers in the Eye, 2020, is based on a water-colour painted by Mai-Thu Perret. The tension between fluidity and geometry in its compositions reflects the ways in which the artist's materials intersect; the basket weaving technique used in her recent ceramic works relates directly to tapestry craft practice. In this work, Perret blends the traditional and artisanal with a postmodern aesthetic that fundamentally questions communal identity, as explored in her fictional universe, The Crystal Frontier.

With her ceramic baskets, Mai-Thu Perret invokes the plastic nature of clay, a tactile material that maintains its relationship with the artist's intuitive touch, even after it has been fired in the kiln. In her ceramics, Perret plays with dichotomies: the relationship between hard and soft, edges and curves, are explored in works that examine classic typologies of the genre, such as Attic pots and vases, gesturing towards traditional function without losing sight of formal innovation.
Claudio Parmiggiani's haunting paintings, made from smoke and soot, echo the inevitable passing of time, and so too, the transience of life. This haunting work reveals the silhouette of a human skull; the edges and details softly blurred. A classic memento mori, the skull a is universal symbol of death, a motif repeated throughout the annals of art history, across a multitude of cultures and practices. For Parmiggiani, the skull signifies the fragility of life, and inevitable mortality.
Words and language as both subject and medium form the backbone of Mel Bochner's practice. In recent years, his oeuvre has developed in tandem with a painterly practice that investigates the interrelation of form and meaning in the visual manifestation of language. In Money, the artist delivers a colourful plethora of synonyms for the word, concluding with the damning indictment, 'root of all evil'.
The work of Toby Ziegler orchestrates a continual oscillation between abstraction and figuration, and between classical composition and its digital manipulation and obfuscation. MOTHER FIGURE draws from imagery created by Ziegler over a decade ago using early 3D design software. Restricted to a black and white palette, star-like patterns articulate a space uniting depth and flatness, hard-edge qualities and the artist's hand. Areas of the composition are erased with a sander, resulting in luminescent interruptions to the repeating landscape.
Toby Ziegler's Nuclear Family pays tribute to Jan Van Eyck's famed Arnolfini Portrait. Here, the artist connects his interest in the abstraction of memory to a broader art historical context. Using an orbital sander to efface the surface of the panel, Ziegler directly contrasts the time-consuming process of figurative painting with the rapidity of erasure. Yet, this work gives itself to the viewer very slowly, compressing time, from the facture of the source painting and its ensuing life span, to Ziegler's own reincarnation of the image.
In Better Than Myself, Clare Woods considers themes of submission and vulnerability. A naked female figure dominates the composition, crouched low to the ground with her back turned towards the viewer. Beneath the figure is a Persian carpet, a subtle nod to Sigmund Freud and the rugs that occupied his consulting room in Hampstead. The physical, naked vulnerability of the young woman's pose is connected with the exposure one feels in the presence of a psychologist. Her representation oscillates between control and abandon, at once perpetrator and victim. In therapy, the patient constantly switches between these two states of mind; the artist captures this dual expression of the human condition.
Belonging to a new body of work initiated by the artist during lockdown, New Problems 4 reflects on a period of intense isolation. Depicting an open-shuttered window seen from the inside, the composition possesses a certain air of discomfort, as once-familiar scenery adopts a new sense of claustrophobia. With little comfort to be found in the solitude of the present, Woods deployed painting as a means of communication, bridging the divide between the familiar past and an unknown future.