Simon Lee
London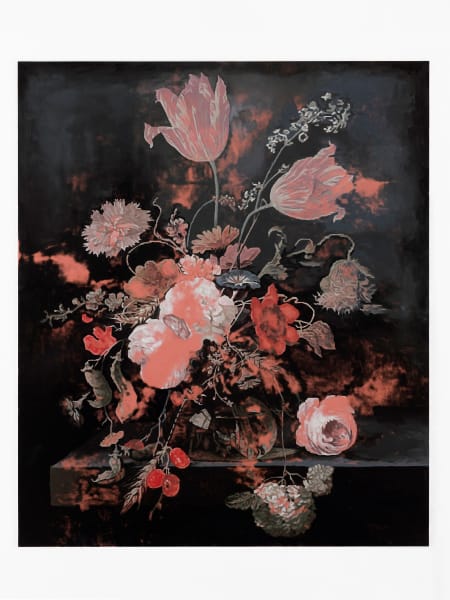 7 September - 14 October 2020
Toby Ziegler: The sudden longing to collapse 30 years of distance
Simon Lee Gallery is proud to present The sudden longing to collapse 30 years of distance, Toby Ziegler's sixth solo exhibition with the gallery, in which the artist explores the complex relationships between experience and memory, image and data, through the twin lens of figuration and abstraction.
The exhibition can be experienced in two dramatically different states. The gallery is lined with a group of large geometric, non-figurative works on paper, reminiscent of Ziegler's early works, juxtaposed with a group of smaller more figurative oil paintings on aluminium. Periodically though, the tranquil space of the gallery is transformed into a multi-projector video installation, in which a barrage of projected images covers the walls and overlays the 2D works, to a soundtrack that oscillates between melody and noise.
Hong Kong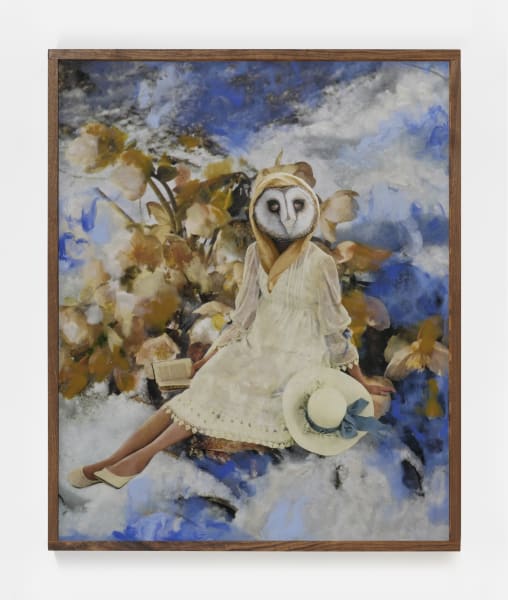 11 September - 31 October 2020
Marnie Weber
Simon Lee Gallery is pleased to present an exhibition of recent works by Los Angeles-based artist Marnie Weber, her first solo show in Hong Kong. This exhibition coincides with the Busan Biennial, in which Weber is presenting a major installation that includes her new film, Song of the Sea Witch.
Weber's practice, which spans performance, video, sculpture, music, costume and collage, is positioned at the junction of reality and fantasy. Referencing folklore, fairy tales and myths deeply embedded in our collective memory, Weber creates dream-like tableaux set in a realm unfixed in time. Blending the carnivalesque, the bacchanalian, the mystical and the absurd, she creates uncanny worlds that stand somewhere between fantasy and reality, thus inviting viewers to an exploration of the subconscious. The darkness of Weber's vision can be seen to lie in the precarious relationship between her parable-like aesthetic and her overtly adult subject matter: sex, drugs and death.
New York
15 September - 17 October 2020
Mai-Thu Perret: Flowers in the Eye
Simon Lee Gallery, New York is proud to present an exhibition of new ceramics and tapestries by Swiss artist, Mai-Thu Perret. This will be Perret's fifth show with Simon Lee Gallery and her first at the New York space.
Known for her multi-disciplinary practice that engages installation, performance, sculpture, ceramics and textiles, Perret derives inspiration from a range of twentieth-century avant-garde and radical art movements, including Dada, Constructivism and Bauhaus design. An interest in the work of 19th century polymath William Morris has provided fruitful ground for Perret. Morris' anti-capitalist ideology and vision of a utopian socialist future reflects the fictionalised women-only commune that has been central to Perret's practice for the past two decades. The Crystal Frontier explores the lives of an autonomous community who have abandoned Western neoliberal society for the remote desert of South Western New Mexico, envisaged by the artist as a refuge from the ills of capitalism and patriarchal convention. Like Morris, Perret engages with the promise of an ideological agenda that promotes egalitarian human relationships.
Donna Huanca: WET SLIT
Incorporating painting, sculpture, sound and scent, Huanca's site-specific installation immerses viewers in a total environment which synthesises her unique aesthetic with a politics of the body as it relates to space and temporality.
Chris Huen Sin Kan: Puzzled Daydreams
Simon Lee Gallery is proud to present Puzzled Daydreams, a solo exhibition by Hong Kong-based artist Chris Huen Sin Kan. Bringing together new paintings and works on paper.
Simon Lee Gallery in London and New York will be closed temporarily until further notice.
In light of the recent COVID-19 developments, Si
mon Lee Gallery in London and New York will be closed
temporarily
until further notice.
Gallery operations continue through remote access. During our closures, we look forward to connecting with you online via our website, social media and online platforms.